Win a UP2 By JAWBONE activity and sleep tracker by signing up to Denplan
Win a UP2By JAWBONE activity and sleep tracker by signing up to Denplan and join us in the VIDA Challenge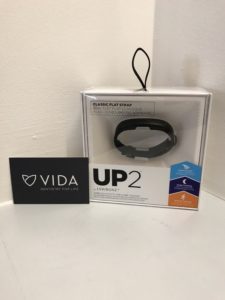 Here at VIDA we started Fitbit challenges.
As you likely know, Fitbit is a platform that gives you the tools, information, and motivation you need to reach your fitness goals. Most of us jumped into the challenge, often changing their daily patterns to add a significant amount of running (Well maybe not running!) walking and stair climbing.
The results of our fitness challenges are proving to be pretty cool. Throughout the day, People walk to and from lunch spots, instead of driving or ordering in. The pets of VIDA are also thrilled with the extra time out in the fresh air!
Because parking our posteriors in office chairs is more or less part of our job descriptions, we decided to implement a wellness plan focused around mobility. We use Fitbits, wrist-worn health trackers that allow us to make fitness part of our daily routines. The devices track steps, water and calorie intake, weight, active minutes, sleeping patterns and more.
We use our Fitbit to motivate each other and see our collective progress. We might run a few laps around the staff room table or up and down the stairs just to pass somebody up on the step count.
Just parking the car at the bottom of Lysses Cark Park and walking up the steps to work and then back again at the end of the day adds a good 1000 steps to your daily routines
Overall, we are moving more than ever. And seeing as I've spent a good 45 minutes perched in my chair writing this blog, I'm going to go get some step
Why Denplan is so good for you
Denplan covers you for a wide range of high-quality dental
treatments, while spreading the cost. This helps you to budget for the
care and advice you will receive from your Denplan practice team.
We will tailor your plan to provide for any routine preventive dental care and restorative treatments you need.
Denplan also gives you peace of mind by including worldwide dental
injury and dental emergency cover (Supplementary Insurance) and access to
our 24-Hour Worldwide Dental Emergency Helpline.
Denplan: key features
Budget for your dental care with confidence – without worrying about unexpected bills
Enjoy better oral health and a healthier smile
Get cover for routine preventive care and a wide range of restorative treatments
Receive worldwide dental injury and dental emergency cover automatically
Access our 24-Hour Worldwide Dental Emergency Helpline
(UK call centre) whenever you need to speak to someone