DENTAL NURSES
Our Dental Nurses are kind, knowledgeable and ready to help.
OUR TEAM | DENTAL NURSES
VIDA nurses are by your side throughout your dental appointments and understand the range of emotions you may feel when visiting the dentist. At VIDA we ensure your appointments proceed in a way you find comfortable, and we understand the comfort a kind word or gesture can bring. Our nursing team are there to support you throughout your time with us so please do ask them for anything you feel you need. VIDA nurses are chosen for their personal qualities as much as their genuine interest and passion in clinical dentist. We are confident you will find their care and attention sets us apart.
Scroll down to meet the team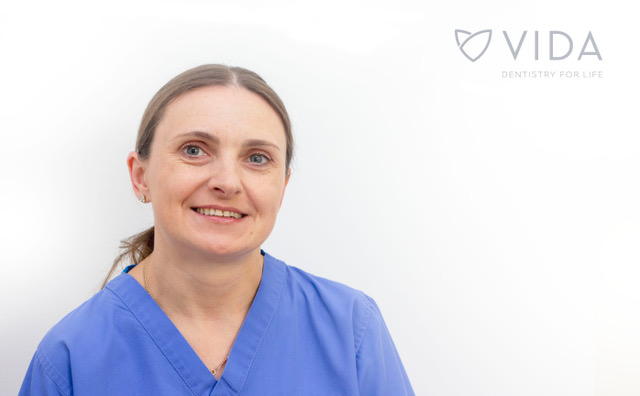 TANIA (TATIANA) SHPEGA RDN GDC No 238597

Lead Dental Nurse and Orthodontic Nurse
Tania is an extremely experienced dental nurse who just loves all aspects of dentistry and works tirelessly to ensure her team and particularly her patients, receive the very best. Tania has a pleasant and bright personality and has fortified even further an already strong nursing team at VIDA.
Tania's area of responsibility within the team is Orthodontics and she joined us from a Specialist Orthodontic practice. Tania she works closely with Invisalign dentists and therapists at VIDA and is involved in coordinating orthodontic treatments for our patients.
Outside work Tania lives locally and is kept busy by three children and a dog.
KATIE DUNFORD

Trainee Dental Nurse
Katie is a vibrant and passionate Dental Nurse Trainee who is  focused on completing her training in record time. Katie is a hard worker and has already set her sights on becoming a Dental Therapist. Outside of dentistry Katie is a dog lover and in her spare time enjoy s a career as a gym wear model!