GUM HEALTH TEAM
Our gum health team can help you to keep your mouth happy and healthy.
OUR TEAM | GUM HEALTH
For people who have suffered gum problems, it can be hard to know how to seek help or where to turn to. However, it can often be a straightforward problem to correct and all this can be done confidentially and discreetly at VIDA. The VIDA team works very closely with each patient to create bespoke courses of treatment, directly addressing specific problems or worries.
Gum problems can return and over time cause unsightly gums, bad breath and social problems, therefore our team not only treats the gums but also educates you in spotting the warning signs and knowing how to manage problems in their early stages.
How to tackle gum problems
Many patients choose to see our resident Periodontics Lead Clinician, Dr Jamie Durrant-Fellows, for an initial assessment and course of treatment, then choose to remain with him for continuing dental care. Jamie is always happy to meet for a complementary and informal chat prior to any commitment. At VIDA we understand completely that choosing the most skilled clinician for the job is just as important as finding that special trust and rapport which puts you at ease. This ensures you get the most from your treatment, with personal attention and support when you need it.
For particularly nervous patients, Jamie's gentleness and vast experience prove a winning combination. Many patients find that their confidence in visiting the dentist returns once they've met him.
DR JAMIE DURRANT-FELLOWS BDS (PCMD) 2011 GDC number 212442

VIDA Dentist, Clinical lead in periodontics at VIDA and CLinical lead in Facial Aesthetics
Special interests: Periodontics, Cosmetic Dentistry, Orthodontics, Facial Aesthetics, Endodontics
Jamie's adult life started in the Royal Navy, where he spent 10 years based in various establishments including the Royal Hospital Haslar, HMS Nelson RCDM and MDHU Derriford.
Now living in Fareham, Jamie has many years of experience as a private dentist. With two young daughters of his own, Jamie understands  the importance of having a family dentist you can trust.
Jamie focuses on traditionally family dentistry but he is also a cosmetic dentist and has been taught by Dr Chris Orr, a leading UK Cosmetic Dentist.
Jamie is an expert facial aesthetician and trains other doctors and dentists  for one of the leading Harley street based training companies. This includes wrinkle relaxing injections (such as botox®, lip enhancement, dermal filler treatments and medical grade skin care and peels.
Jamie is also experienced in less widely available techniques such as Non-Surgical Rhinoplasty (nose correction), under eye (tear trough) treatments and the longer lasting treatments such as Voluma used in the 8 point face lift.
Jamie offers free consultations for general advice if you wish to meet him before booking a New Patient Consultation.
more about Jamie's qualifications
Jamie qualified as part of the inaugural intake at Plymouth Peninsula Dental School (One of the top 3 Dental Schools in the UK).
Since qualifying Jamie spent his first years in General Practice before undertaking a rotation at the Oral and Maxillofacial Surgery department at the Derriford Hopsital (the south west'd trauma centre). Following this Jamie has stated in General Practice.
Jamie has completed the Advanced Dental Seminars certificate in Aesthetic and Cosmetic Dentistry program and, has undertaken multiple courses in cosmetic restorative and orthodontic (tooth straightening) treatments. Jamie is about to embark in a 12 month Orthodontic training program to enable him to treat complex cases.
Jamie is currently working towards the full accreditation program with the British Association of Cosmetic Dentistry.
Jamie has completed a great number of advanced training programs in Facial Aesthetics. These have been in many area and include Advanced uses of Botulinum Toxin (Botok ®) and dermal fillers and specific advanced medical skin management systems such as Obagi.
Prior to his career in Dentistry , Jamie served in the Royal Navy, initially as a Medical assistant, then later as a Registered Nurse in Queen Alexandras Royal Naval Nursing Service where, he focused his career in Emergency Nursing.
SUE WOODWARD  RDH, CEB DipDent Hygiene | GDC No. 2121

Dental Hygienist
Sue trained at the Royal Naval Dental Training School HMS Nelson and she worked at this practice for almost 30 years before it became VIDA in 2016.
She says: "Thirty years is a long time to work for one company, but since I started here I've never wanted to work anywhere else. It's a great team and I love helping patients look and feel better, so I get a lot of job satisfaction."
Sue loves crime and thriller fiction, black and white films and taking trips to London to visit the theatre. She's also a keen gardener.
INTAN WHITE  GDC No 110653

Dental Hygienist
Intan is currently on Maternity leave after given birth to her beautiful daughter in December. We look forward to her return in September.
Intan is one of the hygienists on our Saturday team at VIDA and she shines with positivity and warmth.
With brighter, cleaner teeth, confidence is increased, and patients often feel able to address more serious problems with a dentist once they have been treated gently and with compassion by a VIDA hygienist.
Call us for a Saturday appointment with Intan and she will show you how much better your teeth look and feel after a Classic Scale and Polish appointment.
BERYL PRICE  GDC No 2814

Dental Hygienist
Beryl qualified as a Dental Hygienist in 1983 whilst serving in WRNS. She completed 22years during which she was employed in many different roles : clinical Hygienist, Practice Manager, Dental Hygienist and Dental Nurse Tutor at the Defence Dental School, and, Dental Nurse NVQ assessor.
VIDA has worked with Dr Clare Britton since two thousand and seven and will be seeing VIDA patients on Tuesdays and Wednesdays.
Many patients have already commented and requested seeing Beryl having been impressed by her thorough yet gentle approach.
Outside work, Beryl lives locally with her husband and enjoys gardening, travelling, and baking.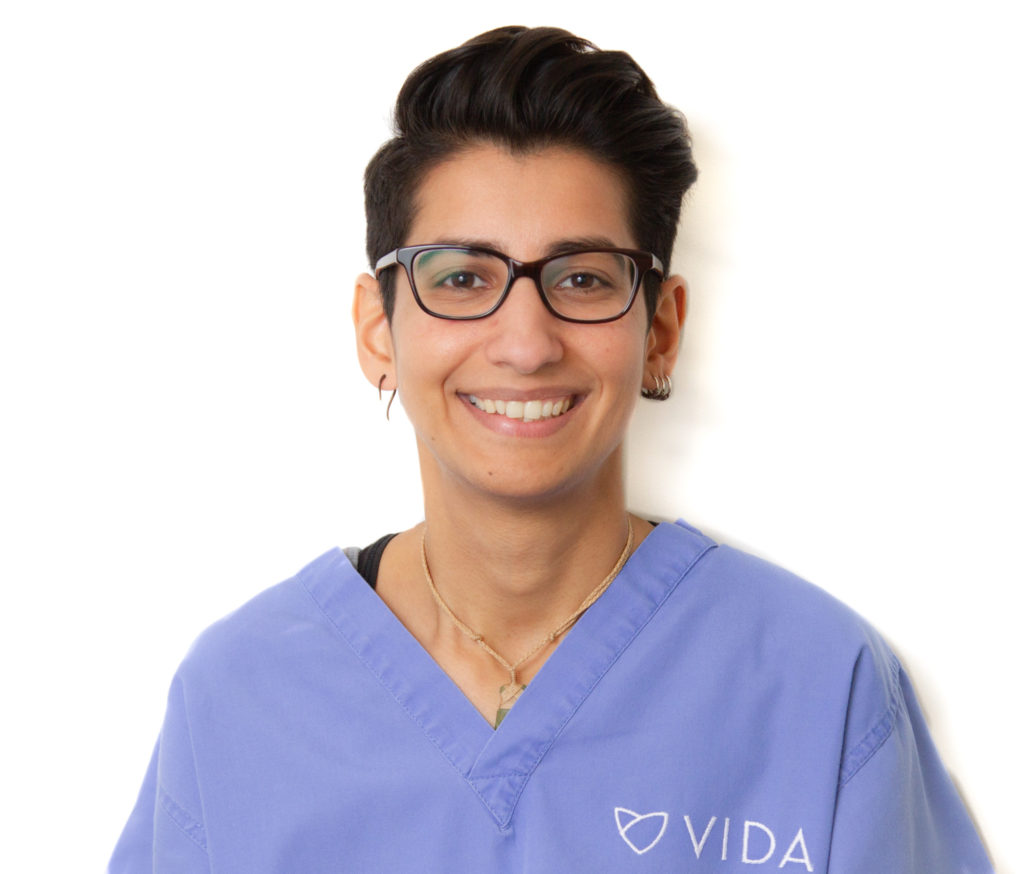 NIDA MALIK  GDC No 252239

Dental Therapist
EMMA LENG 
GDC No 101290
Dental Therapist
Emma qualified in 2005 at the Eastman Dental Hospital
As an experienced dental therapist, Emma's expertise is routine dental fillings on adult and childrens' teeth. This in addition to the full range of hygiene services and oral health education. Emma  focuses on white fillings aesthetic dentistry and tooth whitening.
Outside work, Emma is settled locally with her young family and pet guinea pigs.