GUM HEALTH TEAM
Our gum health team can help you to keep your mouth happy and healthy.
OUR TEAM | GUM HEALTH
For people who have suffered gum problems, it can be hard to know how to seek help or where to turn to. However, it can often be a straightforward problem to correct and all this can be done confidentially and discreetly at VIDA. The VIDA team works very closely with each patient to create bespoke courses of treatment, directly addressing specific problems or worries.
Gum problems can return and over time cause unsightly gums, bad breath and social problems, therefore our team not only treats the gums but also educates you in spotting the warning signs and knowing how to manage problems in their early stages.
Our Periodontics Lead
Many patients choose to see our resident Periodontics Lead Clinician, Dr Brett Leftkowitz, for an initial assessment and course of treatment, then choose to remain with him for continuing dental care. Brett is always happy to meet for a complementary and informal chat prior to any commitment. At VIDA we understand completely that choosing the most skilled clinician for the job is just as important as finding that special trust and rapport which puts you at ease. This ensures you get the most from your treatment, with personal attention and support when you need it.
For particularly nervous patients, Brett's gentleness and vast experience prove a winning combination. Many patients find that their confidence in visiting the dentist returns once they've met him.
DR BRETT LEFKOWITZ  BDS MSc (Dent) (Witz) GDC number 69167

VIDA Dentist, Clinical Lead for Periodontics at VIDA
Special Interests: Periodontics (gum disease), Prosthodontics (rebuilding teeth), Dentures, Oral surgery, anxious patients
Brett is the VIDA dentist with a particular interest in gum problems, how to keep gums healthy and he heads up our experienced Gum Health team.
Brett qualified as a dentist in 1988 and has an impressive career as both a surgeon and a general dentist. His surgical skills are extensive and he worked as a Registrar in Maxillofacial and Oral surgery before taking the decision to devote his time to helping patients in general practice. His passion for surgery has helped him with management of challenging gum problems and also extensive tooth loss, as Brett is vastly experienced in replacing dentures with implants, or alternatively placing only a few implants to help stabilise troublesome full arch dentures. Brett is also an advocate of socket preservation, a technique that helps patients maintain shape in areas where they are having tooth extractions. There isn't much Brett hasn't studied in great depth, but what is most striking is that his primary focus is always the patient, what they want or need, and how his skills can be used to help them achieve it.
For particularly nervous patients, Brett's gentleness and vast experience prove a winning combination. Many patients find their confidence in visiting the dentist returns once they've met him.
We are particularly excited to be working with Brett to increase our provision for dementia patients or those with associated concerns, both at homes and in care centres.
More about Brett's qualifications
Brett is currently enrolled on the Periodontics Masterclass and he is a speaker at the dentist and patient education events held at VIDA.
Previously Brett was MD at Megagen Dental Implants UK and Training Programme, managing three implant clinics for the prestigious Portman Dentalcare. He has worked at prestigious practices around the UK, including several years at the private practice of the UK's leading expert in tooth whitening, Dr. Linda Greenwall.
As with every VIDA dentist, Brett combines incredible clinical experience and technical skills with a clear view of why a VIDA dentist comes to work; to help patients solve their problems but still retain a natural quality to their appearance and quality of life.
SUE WOODWARD  RDH, CEB DipDent Hygiene | GDC No. 2121

VIDA Hygienist offering Direct Access
Sue trained at the Royal Naval Dental Training School HMS Nelson and she worked at this practice for almost 30 years before it became VIDA in 2016.
She says: "Thirty years is a long time to work for one company, but since I started here I've never wanted to work anywhere else. It's a great team and I love helping patients look and feel better, so I get a lot of job satisfaction."
Sue loves crime and thriller fiction, black and white films and taking trips to London to visit the theatre. She's also a keen gardener.
KAREN ELAINE KNOWLES  RDH, CEB DipDent Hygiene | GDC No. 5688

Karen trained at Guys Hospital London and qualified as a hygienist in 2000, joining this dental practice the same year.
She says: "I came here as a newly qualified hygienist over 10 years ago and I've been able to develop my skills and build a career with the support of a great team, and it's a fun place to work — what more could you ask for?"
When she's not at work Karen loves being out in the fresh air gardening or cycling, and she enjoys spending time with her friends and family.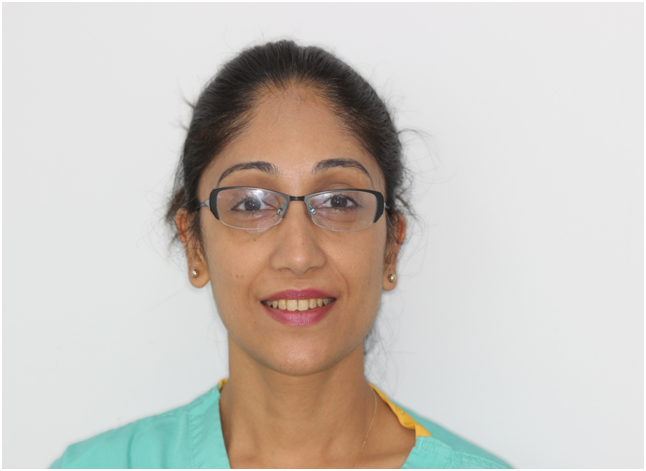 Nidhi Malik  BSc Dental Hygiene and Dental Therapy Portsmouth 2016
Certificate of Higher Education Portsmouth 2011

VIDA Dental Hygiene Therapist
Nidhi is a Hygiene Therapist qualifying in 2016 , which allows her to undertake all the usual hygiene services including cleaning and polishing teeth and bespoke homecare advice. Nidhi is also trained to undertake fillings, whitening, children's extractions and impressions, including those for Invisalign, when working under the direction of a dentist.
Nidhi  can offer direct access appointments (meaning you don't need to be registered with one of our dentist) enjoys working with the advanced equipment and dedicated patients at VIDA Dentistry for Life.
Nidhi is a valued member of our team and her usual clinics are on Mondays however Nidhi also works closely with our midweek team to cover periods of absence and provide continuity of care.
Nidhi says "The patients at this practice are very well educated in gum health and are very diligent with their home care. It is always a pleasure to work here and the facilities are exceptional."
Nidhi has a particular interest in medical conditions affecting gum health and as a mother she knows all too well the value of expert oral hygiene instruction from an early age to keep gums and teeth healthy for life."
Our patients are full of praise for Nidhi and her gentle touch. We look forward to introducing you to Nidhi and are here to answer any questions you may have.
More about Rebekah's qualifications