20 minute Face Lift
WHAT IS Elionce™
Elionce™is a premium thread lift treatment, which uses Polydioxanone to create a natural, fresher and younger looking face. Polydioxanone is a biodegradable thread which has been used for the past 30 years In surgical sutures. Recent scientific evidence shows the rejuvenating and lifting effects of these Polydioxanone threads.
Often referred to as the '10 minute lift' due to its simplicity and how quick the procedure takes, in addition to boasting minimal downtime and reduced after care following treatment, Elionce™ is the aesthetic practitioners thread of choice.
This relatively new form of non-surgical face lift is beneficial to anyone suffering from loose or sagging skin, as Elionce™ threads bring a natural, dramatic skin tightening and lifting effect, resulting in a fresher and younger looking face.
The threads are suitable for most people from their early 20's onwards. As ageing causes the skin tissue to thin due to the breakdown of collagen and elastin fibres, this results in sagging skin, deep creases, folds and wrinkles.
The threads are absorbed after proliferating collagen by stimulating fibroblast and this simple, safe and non-surgical face lift reverses the effects of ageing and promotes wrinkle reduction, skin tightening and lifting and improves the general quality of the patients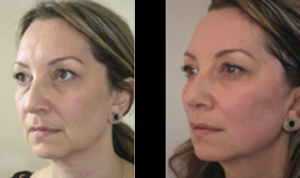 Threads are introduced beneath the skin into the fat or muscle layers using a fine needle injection, meaning that no cuts or incisions are required. Our specifically designed needles and cannulas are aimed at achieving a smooth and comfortable treatment. A lifting effect is almost instantaneous depending on the area treated, rejuvenating and regenerating the skin whilst bringing a natural improvement to facial structure. Recovery times are usually less than one week, and the results from the procedure will continue to develop over the days and weeks after treatment.
Elionce™  threads are composed of the absorbable synthetic polymer PDO. Thread manufacture and extrusion is carried out to GMP and in accordance with national and international (93/42/EEC, KFDA GMP) regulations and standards (ISO 13485).
Elionce™  threads are certified as Class III products under the European Medical Device Directive with the CE Mark guaranteeing product quality and safety:
• Biocompatible
• Non-pyrogenic
• Naturally absorbed and excreted by the body over time
• Knotless
• Flexible
• Sterile
• Safe and effective with a history of over 2 million thread placements
If you want to learn more about Elionce™ thread lift therapy, our Expert physicians will be happy to answer any questions you may have.  please contact us on 01329 823040