NATIONAL TELL A FAIRY TALE DAY
With today being National Tell a Fairy Tale day why not celebrate the tooth fairy
For generations, the Tooth Fairy has left a small gift for children who leave a tooth under their pillows.
This charming tradition is the perfect time to help kids learn more about taking care of their teeth. We have a few inexpensive ways for families to welcome this magical tradtion
A BRUSHING CALENDAR
The Tooth Fairy's visit is a great time to engage kids in healthy dental habits. Along with the Tooth Fairy's gift, leave a brushing calendar in your child's room as an extra gift.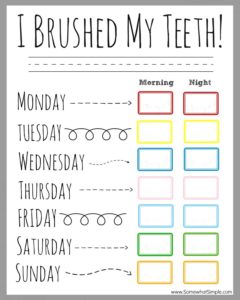 A THANK YOU LETTER
A letter can be left in your child's bedroom as a remembrance of the event.  Include your child's name, the date, a description of the tooth received and the reward, plus a small note such as: "Thank you for this lovely tooth! I can see that you are brushing every day. Keep up the good work!"
A simple  notebook can be turned into a lasting record of the Tooth Fairy's visits. You and  your child can choose one together and have fun decorating it with your child's name, hometown and any other details s/he would like the Tooth Fairy to know.
Have your child write the Tooth Fairy a note before bed every time he or she loses a tooth. When you leave your child's gift behind, record the date and add a little note, such as: "This is a very handsome tooth!
GREAT OFFER AT VIDA AT ONLY £29.99 IS THE PHILLIPS ELECTRIC INTERACTIVE TOOTH BRUSH
Interactive app gets kids excited about brushing

The Philips Sonicare For Kids app syncs with your child's sonic toothbrush to help him learn about oral care through play. Your child's brushing coach challenges him to brush better and for longer. Each session starts with clear visual instructions about correct brushing techniques and the app's progress monitor tracks the total performance. Kids learn while having fun, and parents get to see how well kids are doing between check-ups. App only available to download from United Kingdom App Stores.

98% say it's easier to get kids to brush better and for longer*

With the Philips Sonicare For Kids toothbrush and app, children can discover how to brush properly on their own. The app syncs with your child's sonic toothbrush via Bluetooth to show proper brushing techniques and track performance. Kids can see how well they brush, and earn exciting rewards for a job well done. It's educational and effective, and 98% of parents surveyed say it's easier to get their kids to brush better and for longer. It's the fun way to help kids develop healthy oral care habits that will last a lifetime.

Exciting rewards for successful brushing sessions

Our Philips Sonicare For Kids toothbrush and app bring a whole new level of fun to brushing. The app's central character is the loveable Sparkly, who really likes to have clean teeth. Kids take care of Sparkly while the app's brushing coach challenges them to brush better and for longer. Each time your child brushes well, Sparkly gets happier and each successful brushing session is rewarded. Kids can unlock accessories to personalise their Sparkly, or they can win food for Sparkly, who likes to eat healthily. Parents can even choose rewards to place on the app themselves.

Keep track of brushing time even when you don't use the app

With the Bluetooth-enabled Philips Sonicare For Kids toothbrush, the app's Quadpacer tracks brushing sessions in real time. It recognises when a brushing session starts, pauses and is completed. And thanks to an integrated memory and time stamp on the toothbrush handle, you can even save the details of up to 20 brushing sessions when you're not using the app. Next time you use the app and handle together, the details of those sessions are synced to the app's calendar. Rewards for successful brushing sessions can still be collected, and your child can easily see how far he's progressed.

2 Kid-friendly power modes deliver a gentle, effective clean

With two kid-friendly power modes, this power toothbrush provides proper cleaning for different ages; a low mode for younger children and a high mode for older kids.

2 brush head sizes available

This Philips Sonicare electric toothbrush comes with 1 standard-size brush bead. A compact-sized brush head is also available to purchase separately. Philips Sonicare For Kids brush head sizes are specifically designed to gently clean and protect teeth as they grow.

Multi grip design for parents and kids

Ergonomically designed to enable kids to brush on their own, or with their parents. Every Philips Sonicare For Kids toothbrush boasts a cleverly designed handle that enables parents and kids to brush together if they want. The steady grip ensures smaller hands can easily manoeuvre the brush on their own, while the spacious design leaves room for parents to help when necessary. The sturdy handle design makes it easy for kids to store the toothbrush in an upright position, or apply toothpaste while the toothbrush is lying flat.