HEALTHY TREATS FOR A SUGAR FREE HALLOWEEN
Halloween is upon us again, the yearly sugar fest that is only matched by Easter and Christmas. It's a treat or treat bonanza,
Now, roaming the streets dressed up as zombies and ghosts while collecting bucketfuls of sweets is one of the great pleasures of childhood. I wouldn't dream of suggesting you should forbid your children to join in or take away their bounty. Sugar free mummies, that is stealing! It's best to take a deep breath and remind yourself that it is more important to reduce sugar consumption throughout the whole year rather than focusing all attention on one single day.
Apart from making sure your kids brush their teeth particularly well on the 31st (and giving them plenty of veggies for lunch to make yourself feel better), there is one more thing you can do to help your family have a healthier Halloween: Throw your own sugar free Halloween party and crowd out the junk with these brilliant healthy sweets and savoury treats. You might even find that the cheap candy your kids collected earlier ends up in the bucket for the other trick-or-treaters.
CHOCOLATE PEANUT BUTTER SPIDER COOKIE
INGREDIENTS
PEANUT BUTTER THUMBPRINTS
CHOCOLATE DRIZZLE FOR LEGS
INSTRUCTIONS
COOKIES:
Preheat oven to 325F and line a large baking sheet with parchment or a silicone liner.
In a medium bowl, whisk together the peanut flour, baking soda and salt. In a large bowl, beat butter and peanut butter until smooth. Beat in sweetener until well combined, then beat in egg, vanilla extract, and stevia extract. Beat in the peanut flour mixture.
Roll dough into 1 inch balls and place 2 inches apart on baking sheet (you should get about 30 balls). Flatten slightly with the palm of your hand and then create a well in the center of each with your thumb (you may need to wet your hands a few times).
Bake 12 to 16 minutes, until puffed and just golden brown and barely set. They will still be very soft. Remove from oven. Use the end of a wooden spoon or other blunt, round kitchen implement to gently re-do the wells in the center of each cookie. Let cool completely.
CHOCOLATE DRIZZLE:
Place chopped chocolate in a microwave-safe bowl. Heat on high for 30 second increments, stirring in between, until melted and smooth.
Cut the very tip of the corner of a Ziploc bag. Place chocolate in bag and drizzle four lines across each cookie.
CHOCOLATE GANACHE FILLING:
In a small saucepan over medium heat, bring cream and sweetener to just a simmer, stirring to combine.
Remove from heat and add chopped chocolate. Let sit 5 minutes until chocolate is melted, then whisk to combine. Add vanilla and whisk until smooth.
Dollop about 1 to 2 tsp ganache into the well of each cookie, taking care not to overflow the well. Let cool 20 minutes before adding candy monster eyes, if using.
Recipe notes
Makes 30 cookies. Each cookie has 2.88 g of carbs and 1 g of fiber. Total NET CARBS = 1.88 g. (go ahead, have two. You deserve it!).
Carb count does not include candy eyes. I would imagine this adds about 1 or 2 more grams of carbs per cookie.
Food energy: 98kcal Total fat: 8.34g Calories from fat: 75 Cholesterol: 13mg Carbohydrate: 2.88g Total dietary fiber: 1.00g Protein: 2.14g
CHOCOLATE GANACHE FILLING
HALLOWEEN BAT COOKIES (SUGAR FREE, GRAIN FREE)
Ingredients
• 40g (1/3 cup) coconut flour
• 80g (2/3 cup plus 2 tablespoons) almond flour (NOT ground almonds!)
• 40g 1/4 cup) powdered erythritol (I used Sukrin icing)
• 120g butter (softened)
• 2 tbsp cocoa powder (unsweetened)
• 1/4 tsp baking powder
• for the glaze
• 50g chocolate (90%)
• 1 tbsp powdered erythritol
• 2 tbsp double (heavy) or whipping cream
• 1 tbsp butter
Instructions
Preheat your oven to 180 Celsius.
Mix all the dry ingredients, then add the butter and combine until you have a smooth dough.
Divide into 2 balls and roll out between two sheets of non-stick baking paper.
Place in the freezer for 15 minutes. This is an essential step!!
Cut into shapes with a cookie cutter of your choice. If the dough has been in the freezer for too long, it might break easily. In this case, just wait a few minutes to continue. PLace the cut-outs on a baking sheet lined with parchment paper.
Form the leftovers of the dough into a ball, roll out again and repeat the freezer step.
Bake your first batch for 6 minutes until the edges are just beginning to brown.
Let cool completely before glazing.
For the glaze, combine all ingredients in a pot over low heat, stirring continuously. You could also do this in a microwave.
Once it is liquid, drizzle over the cooled cookies with a spoon or a fork.
Notes
The amount of dough made ca 20 cookies, although this will vary according to the size of your cookie cutter. Therefore, I have calculated the nutrition for the whole amount. The nutritional data for one of my cookies (1 of 20) would be: 81 calories, 7g fat, 2g carbs, 0.2g sugar) Also bear in mind that most of the chocolate glaze actually ended up on the baking sheet
Apple Sunbutter Teeth Bites
INGREDIENTS
3 apples, cut vertically in half
6 Tbsp. sunflower seed butter (or favorite nut butter of choice)
2 strawberries, sliced
sunflower seeds for the teeth
INSTRUCTIONS
Take each apple half and gently carve out the mouth with a small knife.
Stuff the inside with 1 Tbsp. sunflower butter.
Carefully place the sunflower seeds into the "gums" of the apple and then decorate with a strawberry "tongue" slice.
NUTRITION INFORMATION
SERVING SIZE: 1 Vampire Bite CALORIES: 140 calories FAT: 7 g
Halloween Treat: Cheese and Pretzel Broomsticks
These snacks are terrific if you are having a playdate… well, a small playdate anyway.  Or if you just want a cute little treat for your kiddos.  You probably don't want to be making a whole lot of these or you will go crazy pealing the cheese.  Since I was only making a few it was still therapeutic.  I don't know about you, but I always feel a little creative burst when I open a cheese string.  I just can't eat it without making it into something first!
Spread apart the cheese into thin strands to make it look like a broomstick end:
Okay, this part was admittedly a little tedious.  But these are the types of things I'm willing to for my kids.  And it helped that I didn't have to make very many.
Poke the pretzel into the end of the cheese string.  Just be careful not to push it too far or else the cheese will start to split.
Find the skinniest chives that you can possibly find, and just tie it neatly around the cheese, using your fingernails to pinch off the ends:
Banana ghost pops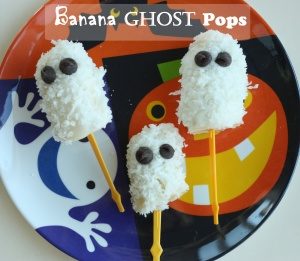 The first step is to freeze your bananas.  I peel mine and then lay them flat on a cookie sheet.  This only takes a few hours.  Once they are frozen, cut each banana into thirds.
You will need only 3 other ingredients. Yogurt, shredded coconut and chocolate chips.  I pulsed my coconut in the food processor for just a minute to make it a little more fine.
Put a toothpick  in one end of each banana.  Then dip in the yogurt and make sure you cover it all the way around and roll it in the coconut.  You could probably just use yogurt and then freeze it, but the coconut is super yummy and gives it a fun texture.
Roll it in coconut on all sides.  You can push it on with your fingers if you need to.
Once it is covered in coconut, just put 2 chocolate chips on for eyes.  You can also use raisins.  Push them in good so they will stay.  If you aren't going to eat them right away, place them on a cookie sheet and put them in the freezer.  Otherwise the banana will get all soft and mushy.
Now sit back and watch your kids enjoy something that isn't candy this Halloween season.